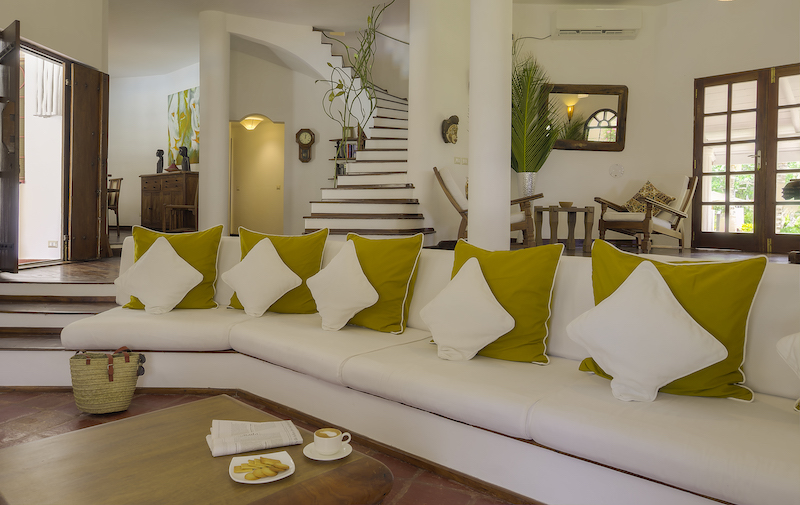 Casa Blanca by Kobe is a luxurious private villa of about 300 square meters, located in Watamu, one of the most beautiful destinations on the Kenyan coast. It is a large unit that can accomodate up to 6 adults, with a fully equipped kitchen and a beautiful panoramic view over Garoda Beach and Watamu Marine Park. There are 3 double bedrooms with 3 bathrooms, a dining area with spectacular views of the Indian Ocean and a large living/dining room with satellite TV.
The veranda overlooks the private swimming pool shared with other units, which is set in tropical gardens. Beach, restaurants and bars are just a 2-minute walk away. Wi-fi is present throughout the Villa, which is cleaned every morning. Breakfast, lunch and dinner are services, on request.
3 bedrooms, with bathroom
THE COMFORTABLE AND WELCOMING ROOMS OF THE VILLA
The exclusive services of the Villa
KOBE SUITE RESORT STAFF WILL BE AT YOUR COMPLETE DISPOSAL DURING YOUR STAY AT CASA BLANCA BY KOBE.

Breakfast will be served every day directly on the veranda or in the dining room, for the whole family. In fact, the staff of the Kobe Suite Resort will be dedicated to you during this moment. Breakfast will be served every day in the Villa between 7.30 and 10.30 in the morning.
Upon request, our Kobe Restaurant staff will be available to serve you lunch and dinner directly in the Villa, respecting your privacy. The Villa is also the perfect location for a private small party.

Contact us to book
your
holiday in the Villa
Send us a message and we will get back to you as soon as possible!

Villa Casa Blanca by Kobe is available for maximum 6 adults, 3 nights mininum stay, breakfast included.
Turtle Bay Road
Watamu, Kenya
+254 (0) 700 951 951
info@kobesuiteresort.com
Check-in: from 2:30 pm
Check-out: 10:00 - 11:00 am